Written by John Cole, Managing Editor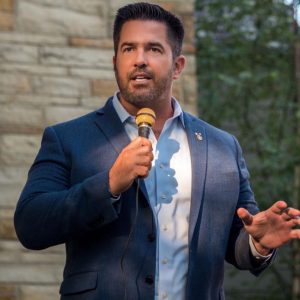 Although Pennsylvania's Republican primary field is still forming for the 2022 U.S. Senate race, PoliticsPA readers believe that an Allegheny County Republican should be the party's nominee in the race to succeed outgoing Sen. Pat Toomey.
With 108,727 votes casted, 48% of PoliticsPA readers say that Sean Parnell, a combat veteran and author who was the GOP nominee for the 17th Congressional District in 2020, should be the Republican Party's nominee for U.S. Senate in 2022.
Jeff Bartos, a Montgomery County real estate developer who was the GOP Lt. Governor nominee in 2018, finished in second place by securing 35% of the vote. Kathy Barnette, a veteran and conservative commentator who was the GOP nominee for Pennsylvania's 4th Congressional District in 2020, finished in third place with 17% of the vote.
220 votes were tallied for "someone else," which was the next highest vote total outside of the top three vote-getters.
Craig Snyder, a political consultant and former chief of staff to Sen. Arlen Specter, narrowly edged out Carla Sands, former U.S. Ambassador to Denmark during President Donald Trump's administration, for the next most votes. Snyder received 143 votes, while Sands secured 139 votes.
Sean Gale, an attorney, received 31 votes, while Everett Stern, a businessman and HSBC whistleblower captured 24 votes.
Reader Poll: Who Should Republicans Nominate for U.S. Senate in 2022?
Sean Parnell (48%)
Jeff Bartos (35%)
Kathy Barnette (17%)
Someone Else (0%)
Craig Snyder (0%)
Carla Sands (0%)
Sean Gale (0%)
Everett Stern (0%)
—